Innovation Park Invites all park residents, and the public, to join them in a ribbon cutting ceremony to celebrate the opening of the newly constructed walking trail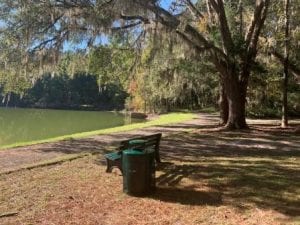 Innovation Park of Tallahassee, North Florida's university research park is celebrating the grand opening of its central pond walking trail on Wednesday, December 11. The Park invites Innovation Park residents, as well as the public to join them from 2pm-4pm to grab a Lucy and Leo's cupcake and explore the new trail.  An official ribbon cutting ceremony will take place promptly at 2pm behind the Knight Building located at 1736 W. Paul Dirac Dr., Tallahassee, FL 32310. Leon County Commission Chairman, Bryan Desloge, and Immediate Past Chair of the Leon County Research and Development Authority, David Ramsay will provide remarks.
"We are thrilled to invite our Park residents, and the public, to celebrate the opening of our trail," said Ron Miller, Executive Director of the Leon County Research and Development Authority.  "It is a wonderful amenity for our residents that the public is welcome to use as well.  It is strategically located to better connect the different parts of the 208-acre research park and is a great place to think and be inspired."
The trail is six-tenths of a mile long and encompasses a serene pond in the center of Innovation Park. It has three access points: next to the Knight Building, across from the Florida Virtual Campus and between the Northwest Regional Data Center and the National MagLab. Park benches, trash cans, and pet waste disposal stations are on site. The trail is open for public use with limited parking at the Knight Building.
Design and construction for the trail began in early 2018. Innovation Park worked with the Leon County Public Works department to oversee the project from start to finish.
"Leon County is proud to have assisted the LCRDA team in designing and overseeing the construction of this great trail and its other improvements," said Leon County Commission Chairman Bryan Desloge. "The multiuse trail will be an amenity for the more than 30 organizations that call Innovation Park home, as well as the many others who visit from around the globe."
The trail is open from dawn to dusk.