~Research Park Opens First Technology Incubator with Wet Lab Access in the Region~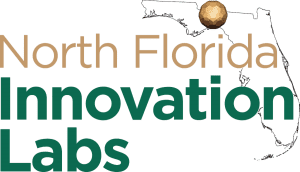 Innovation Park of Tallahassee is pleased to announce that its technology incubator, North Florida Innovation Labs will be open and ready to accept members on October 1, 2019. This will be the first incubator facility in Tallahassee to have wet lab space, in addition to an array of business support services that accelerate the development of technology companies to assist them to be financially viable and self-sufficient.
The facility is intended to attract hard science, high impact companies, and includes wet lab space that can be shared among tenants, with ten offices in the Park's newly renovated Collins Building.  Additionally, incubator members will have access to a conference room, co-working space, wi-fi internet, copy/printing/scanning, mailbox, breakroom, and a seminar room that can seat up to 60 people.
"The new facility allows our incubator program to flourish in an environment that promotes collaboration and interaction with scientists, engineers, and other technologists.  An extensive mentor network, networking events, and peer-to-peer learning can take place in our new training rooms designed for that purpose," remarked Michael Tentnowski, Director of Entrepreneurship at Innovation Park who will be running the incubator.
North Florida Innovation Labs' incubator program offers different membership opportunities that range from private space to coworking space to virtual memberships with no physical occupancy. The program offers business and entrepreneurial support and training, but it differs from other incubators in its focus on hard science technology. Specialized assistance is provided for federal Small Business Innovative/Tech Transfer Research grants (SBIR/STTR), a $3.5B program featuring non-dilutive capital sources of funding.
"We are very excited to open our own incubator in Innovation Park.  This has been in the making for years, and we're delighted to provide the community with this much needed asset," stated Ron Miller, Executive Director of Innovation Park of Tallahassee. "We've lost talent to places like Gainesville, the Space Coast, and even out of state due to not having the unique space required to help these high impact potential companies grow.  We believe this is an important first step toward solving the out-migration problem."
North Florida Innovation Labs and Innovation Park of Tallahassee will be hosting an Open House on Thursday, October 24th from 3:00pm until 6:00pm. There will be a ribbon cutting ceremony at 3:00pm with the Chamber of Commerce. This event is open to the public, especially those interested in membership options.  Drinks and light hors d'oeuvres will be served, and there will be remarks from both the Director of Entrepreneurship and Executive Director.
North Florida Innovation Labs is a non-profit organization that believes in helping companies develop their ideas and grow in the Tallahassee / Big Bend region. Innovation Park of Tallahassee is in the planning and fundraising stage for developing a new state-of-the-art building for its incubator program. The Collins Building location will serve as the launch pad for the incubator program in the meantime.
For more information about North Florida Innovation Labs, please visit: https://innovation-park.com/nfil/.