Annual TechGrant competition, presented by Hancock and Whitney Bank and Danfoss Turbocor, gives local early-stage companies access to critical funding and networks.
Innovation Park of Tallahassee is pleased to announce the five finalists who will compete at the 2018 TechGrant Pitch Night for a chance to win up to $15,000 in grant funding for their early stage company.   The 2018 finalists, in alphabetical order, are:
DiaTech, Diabetic Technologies, LLC produces a medical device specifically for insulin therapy technology to detect delivery failure and injection site viability
Footy Training, LLC is a platform that provides curriculum for young athletes to train on their own and play against professional athletes
NeuroJungle, LLC produces a wearable limb manipulation device that is a virtual anatomical interactivity technology for stroke survivors
Nhu Energy, Inc. has developed bundled intelligent control and analytics products and services that can demonstrate new technologies and systems before deploying them into critical infrastructures
WeatherTiger, LLC created a seasonal forecasting algorithm that can improve existing long-range season weather forecasts for the commercial market
The annual TechGrant Pitch Night is being presented this year by Hancock and Whitney Bank, and Danfoss Turbocor Compressors. The TechGrant Pitch Night will take place on Wednesday, May 16th at 5:30pm at Goodwood Museum and Gardens.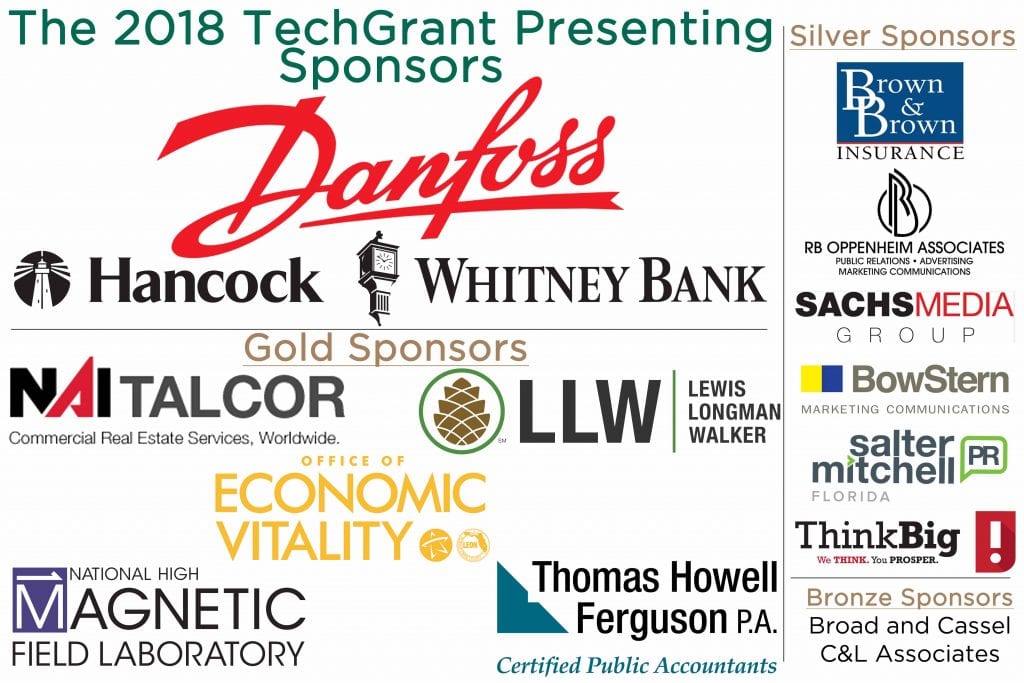 During the event, each finalist will present a five-minute pitch to a panel of judges and an audience of established investors, mentors, and researchers. Two winners will be chosen at the end of the night based on overall scoring.
In addition to receiving grant funding the winners of the TechGrant competition will also receive scholarships to the Innovation Park Entrepreneurial Excellence Program (EEP) and access to the Entrepreneurs' Club @Innovation Park, an exclusive networking group of past grant recipients, EEP Alums, and successful local business professionals.
The Innovation Park TechGrant Program was first launched in 2005 to demonstrate our commitment to supporting the entrepreneurial ecosystem in Leon County. Since its inception, 24 companies have benefitted from $412,000 in grants awarded for the commercialization of their technologies. Most of those companies are still flourishing in the local community today.
This year's Pitch Night is also being sponsored by Lewis, Longman and Walker, NAI Talcor, the Office of Economic Vitality, Thomas Howell Ferguson PA and several other local partners. For more information about Innovation Park's TechGrant program please visit: https://innovation-park.com/techgrant.