Five local early stage companies competed for a chance to win a portion of $25,000 awarded at Innovation Park's Annual TechGrant Pitch Night
Innovation Park of Tallahassee is pleased to announce NeuroJungle and Footy Training have been declared the 2019 winners of the Innovation Park TechGrant Program.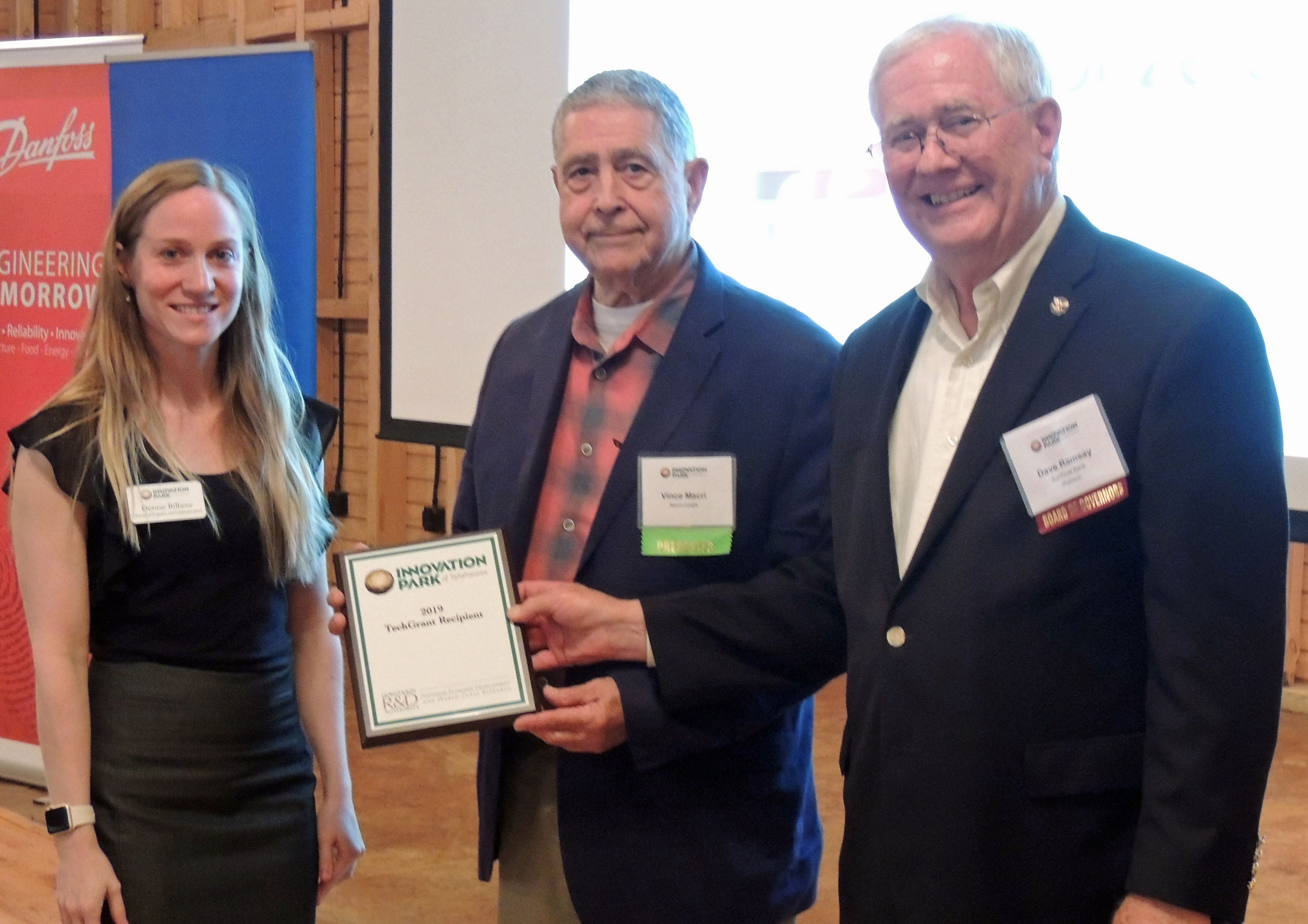 NeuroJungle took home the first-place prize of $15,000. NeuroJungle is a company that has developed an anatomical interactivity technology for stroke survivors that uses a wearable limb manipulation device connected to virtual reality. They will use these funds to develop programs that mimic therapeutic exercises performed at rehabilitation clinics, so stroke survivors can also do them at home.  These programs will work with the virtual limbs the company has already developed.
"Stroke survivors need to repeat brain and body exercises to enhance recovery," stated Vince Macri, CEO and Founder of NeuroJungle. "The TechGrant won by NeuroJungle will advance our plan to work with FAMU Physical and Occupational Professors and FAMU programmers/animators to provide stroke survivors with supplemental rehabilitation. Virtual limbs controlled by survivors will be used to duplicate hands-on therapy actually administered in clinics."
This is the second time NeuroJungle has won the TechGrant.  They won $10,000 during last year's competition and used the funds to develop a drop foot prototype.
Footy Training took home the second-place prize of $10,000 this year.  Footy Training is a subscription-based sport-specific training app that helps athletes train on their own and uniquely against national teams, professional players, and anyone in the world.
Armand Dikrani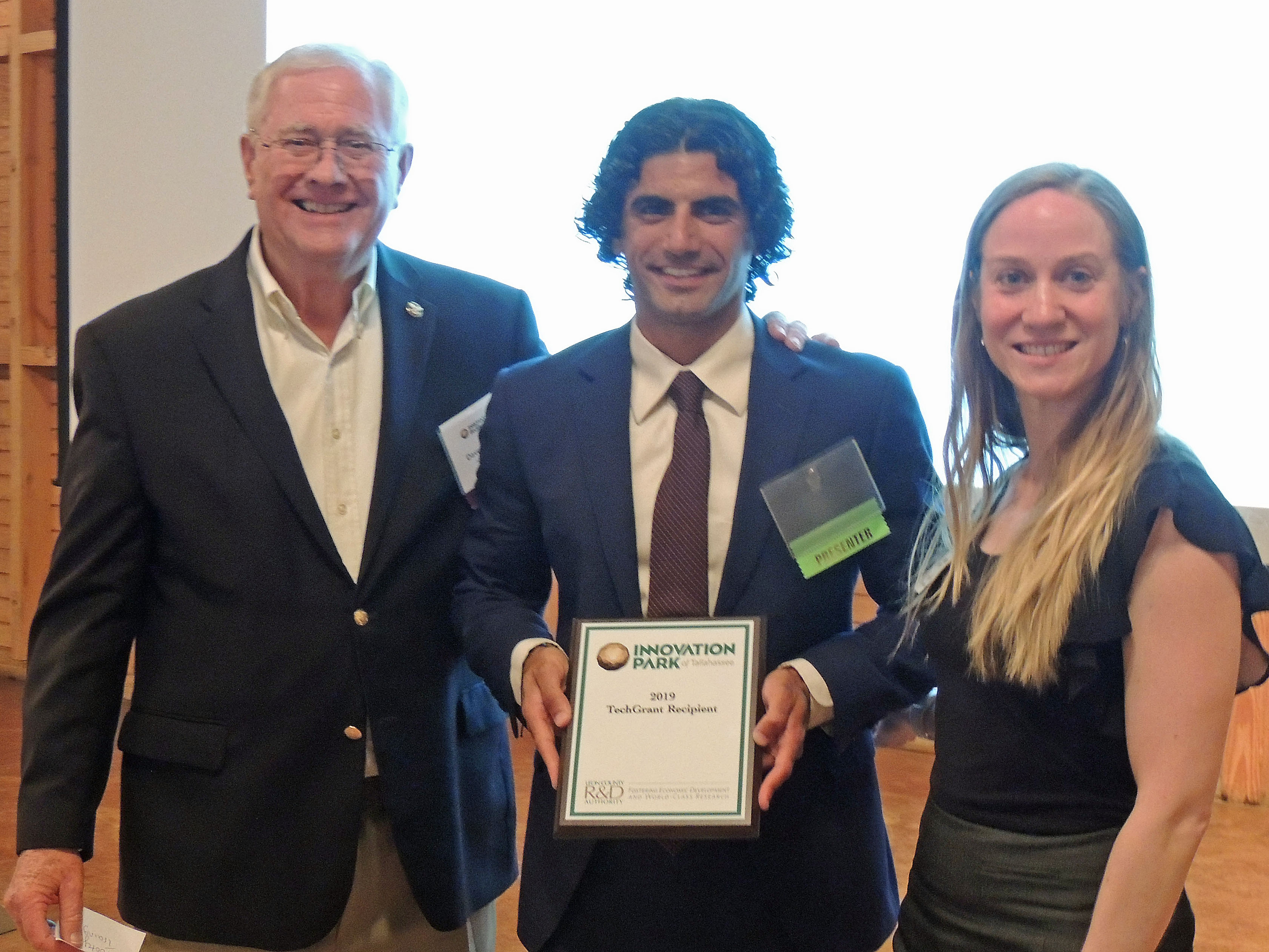 an, Owner of Footy Training said, "Innovation Park's TechGrant is an absolutely fantastic program provided to anyone looking to commercialize their startup company in the Tallahassee community! The funds received will allow Footy and Tallahassee's 223_Agency to develop a female-specific app and language variations pivotal for global market control of sport-specific training performance while also maximizing Footy's service to the Leon County soccer community."
These grants were presented during Innovation Park's annual TechGrant Pitch Night, which was co-presented this year by Hancock Whitney Bank and Danfoss Turbocor, and took place on Thursday, May 16th at Goodwood Museum and Gardens.  At the event, Tallahassee business and community leaders gathered to watch five impressive companies compete for a chance to win one of these grants.  The other finalist companies were Nhu Energy, Immuto Inc. and EduClear.
Innovation Park initiated the TechGrant Program in 2005, and since then has awarded $462,000 to 27 companies, several of which are still flourishing in Tallahassee and producing high-wage tech jobs.
Event Sponsors this year also included Lewis, Longman and Walker, National High Magnetic Field Laboratory, NAI Talcor, Brown & Brown Insurance, The Office of Economic Vitality, Thomas Howell Ferguson and Nelson Mullins Broad and Cassel.
For more information about Innovation Park's TechGrant program please visit: https://innovation-park.com/techgrant/.