Innovation Park's TechTopics Series
At Innovation Park, we believe that new innovative ideas come from collaborating with others.  Three times a year, we host our TechTopics event, which brings together members of our community to learn about Innovation Park, its residents, and the research being conducted in the Park, as well as the Big Bend Region.  We believe that showcasing and sparking conversations about these subjects can foster new ideas, while also making the community aware of the world-class research, facilities, technology, resources, commercialization and entrepreneurship taking place in the park.
All of our TechTopics events take place at one of  our facilities in Innovation Park.  The event begins at 11:30am with grabbing lunch and networking. Our speakers begin at 11:45am, and includes time for discussions and questions.  The event wraps up at 1:00pm.
Over the past few events, our audience has grown, so we suggest getting there right at 11:30am to get a good seat.
Our TechTopics events are FREE and open to the public. Lunch is provided complimentary to all of our attendees.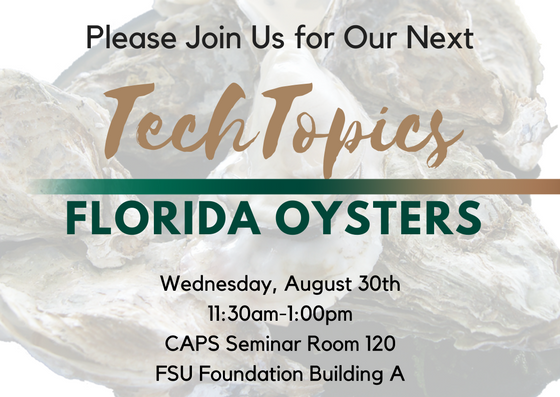 To learn more about our upcoming TechTopics event and to register before Monday, August 28th, click here.
We like to center our topics on hot topics that are of interest to our audience and include speakers from Innovation Park.  Previous Topics have included:
March 2017– Artificial Intelligence and where the technology is heading in the future
November 2016– Commercializing research being conducted in the higher education institutions
September 2016– How research at the MagLab is helping to change oil spill cleanup and determining oil footprints
March 2016–  The general program of COAPS and the commercialization update of HWind Scientific, the real time tropical cyclone analysis system
November 2015– Introductions to the Florida Center for Advanced Aeropropulsion, a tour of their facility and how their work plays into Tallahassee's Economic Development.