$725K Grant Funds Technology Accelerator Positions at North Florida Innovation Labs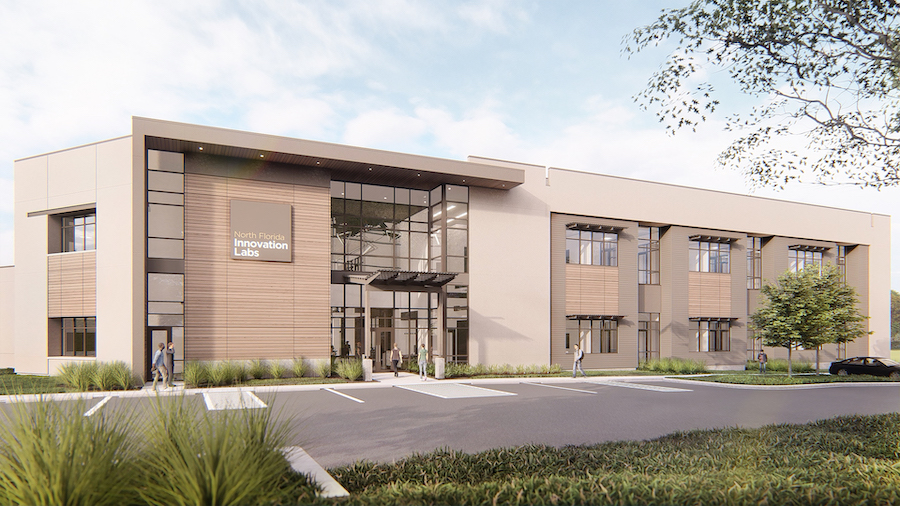 Innovation Park of Tallahassee was selected as a recipient for the Economic Development Administration's (EDA) "Build to Scale" grant program. The Park will receive nearly $725K to fund several staff positions for North Florida Innovation Labs, the technology incubator in Innovation Park that is currently under construction.
"These new, specialized positions in our community will serve as 'job multipliers' because these people will directly support technology companies – from startup through growth scaling stages," said Bill Lickson, Director of North Florida Innovation Labs. "This three-year grant will continue to accelerate the momentum we have as a region and the reputation that Tallahassee and North Florida have as a great place to start and grow technology companies," added Lickson.
With this grant, four full-time positions will be created to directly support technology companies. The positions include a technology commercialization manager, a lab manager, and other positions to support the lab's programs and services.
North Florida Innovation Labs is a 40,000 square-foot facility that will serve the greater North Florida region. The $24M building will contain wet labs, dry labs, product prototyping areas and collaboration spaces to support a diverse range of technology innovation. The Lab will help stimulate the creation and growth of cutting-edge technology jobs in the North Florida region by providing new, dedicated resources to help ensure technology-based innovation opportunities stay in the region. North Florida Innovation Labs is slated to open in early 2024.
The EDA's "Build to Scale" grant program, a highly competitive program, provides grants that work to accelerate technology entrepreneurship by increasing inclusive access to entrepreneurial support and startup capital. In 2022, the program awarded 51 organizations a total of $47M throughout the United States to help foster innovation and fuel economic growth. The "Build to Scale" program is comprised of two competitions. Innovation Park was awarded "The Venture Challenge," grant which specifically supports programs that enable high-growth technology entrepreneurship and foster inclusive access to proven entrepreneurship support models.
Learn more about North Florida Innovation Labs by visiting https://innovation-park.com/innovationtlh/. To learn more about the EDA's 2022 "Build to Scale" grant recipients, view the EDA press release or https://eda.gov/news/press-releases/2022/10/05/build-to-scale.htm.